How to choose a plate beveling machine?
2017/10/20 15:09:02CLICK :
Compared with flame cutting machine. Beveling machine with higher efficiency, easier operation and no deburring request. Besides, Flame cutting machine is hard to operate with large energy consumption, And metal surface will be oxy-genated and sharped. With those characteristics. Beveling machines is getting popular in the markets.
As per different metal material. It comes with plate beveling machine and pipe beveling machine. Hence, How to choose a plate beveling machine?
First of all, You have to check your material type, specifications (Thickness is important).
GBM Seires plate beveling machine is more suitable for low carbon steel, medium carbon steel, aluminium alloy, copper, stainless steel and so on. If you need process special material, We can make you customized cutters or Inserts. It request to change cutters only when process different material of metal plates.
Currently we have machine option could process plate thickness from 4mm to 120mm range for bevel.
Such as model GMMA-60S Clamp thickness 6-60mm, GMMA-80A Clamp thickness 6-80mm, GBM-16D Clamp thickness 9-40mm and so on.
Secondly. You need to confirm your bevel width and angel. Like below picture for your reference.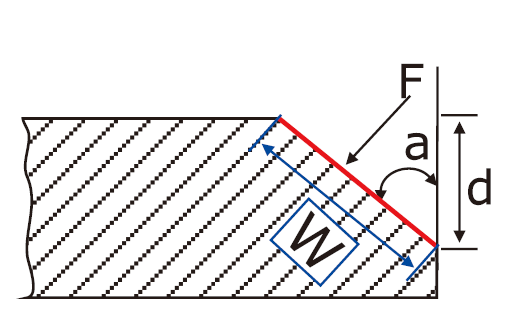 Coz different model have different bevel angel. Such as GBM-6D is only for Single bevel angel like 25,
30,37.5 or 45 degree. GBM-12D is available for 25-45 degree adjustable, and GMMA-60S bevel angel 10-60 degree, or GMMA-60L bevel angel from 0 to 90 degree.
Thirdly, Pls confirm do you need single side bevel or double side bevel? If you need "X""Y" "or V type bevel joint, And metal plate is heavy not easy to move. Then you will request a turnable machine which is turn over for double side beveling process. Such as GMMA-60R for double side edge milling , GMMA-12D-R and GMMA-16D-R turnable beveling machine for both sie beveling.
Based on above points, We will have the best solution for you on the beveling machine models.
If you have wider working range, Pls tell us then we can support you with customized beveling machine as per your bevel requirements. Email: sales@taole.com.cn or info@taole.com.cn
Our Mission is "QUALITY, SERVICE AND COMMITMENT", We will keep developing on beveling machines with better solutions for you.
Brand: "TAOLE" and "GIRET"
Supply: plate beveling machine, plate edge milling machine,plate chamfering machine,portable beveler beveling machine,pipe beveling machine ,pipe beveling tool, id-mounted pipe beveling machine, pipe beveler, pipe cold cutting and beveling machine, electric/penumatic/hydraulic pipe cutting and beveling machine